Apps
Hash Calculator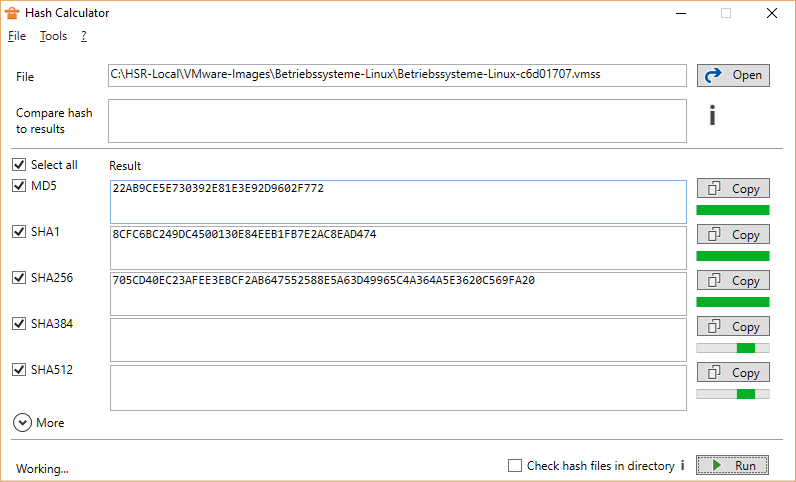 Description
A multi-threaded, parallel Hash Calculator.
Installation / Download
It's a ClickOnce application, so you can choose to update whenever you start it.
Features
Parallel calculation of hash values
Compare hashes
Save hash values to file
Check hash values in file (e.g. .md5, also see FAQ)
See runtime for each algorithm (hover over progress bar)
Algorithms

MD5
SHA1
SHA256
SHA384
SHA512
More
Multi-Threading
A multi-core machine can run several algorithms simultaneously
When using several algorithms, you don't have to wait for SHA512 (slow) to finish to display the value of MD5 (fast)
The GUI does not freeze and is still usable
I did not find a decent Hash Calculator that supports all this. That does not mean other developers are incompetent, it just got a lot easier in the last years to program multi-threaded.
FAQ
My hash value files are not found or incorrect

Hash Calculator only supports a limited range of hash files. The file names are displayed in the GUI and it only supports files of the following formats

<hash><space><anything> (tools like md5sum)
<hash>

It only supports per-file hash files. So e.g. MD5SUM or MD5SUMS is not supported
The file name needs to be <full file name>.<hash>. <full file name> needs to include all file extensions like .exe

I cannot run it as another user or Administrator

ClickOnce applications cannot be run as an Administrator or any other user
Changelog
1.4.6

Fix: Reverted compare change, multi-threading leads to a race condition

1.4.5

Enhancement: Icons and other UX
Enhancement: Compare now works retrospectively after the run
Fix: Compare works the wrong way when there's no result

1.4.4

Incorporated usability feedback

1.4.3

Feature: Play sound when done (optional)
Feature: RIPEMD160 (under More)
Enhancement: Showing rules for normalization

1.4.2

Fix: Status set incorrect while saving
Fix: Missing newline in hash file

1.4.1:

Enhancement: User input (hash file and compare) is now normalized
Internal: Cleaner code

1.4.0:

Feature: Add runtime
Feature: Check hash files
Enhancement: Save hash file follows sort-of standard (tools like md5sum)

1.3.1: Fix: Threading Problem
1.3.0:

Feature: Error Checks
Fix: Borders not resetting correctly

1.2.2: First public release
Known Issues
Two shortcuts in Start Menu

ClickOnce generated two Start Menu shortcuts because of a configuration error in an old release. One of them points to an outdated version. To get rid of this, uninstall the app (via Programs & Features) and re-install again, it will delete all shortcuts.
Feedback
Send feedback to hash-calculator at dreami.ch
Open Source
This tool is open source with an MIT license. You can fork it on Github.